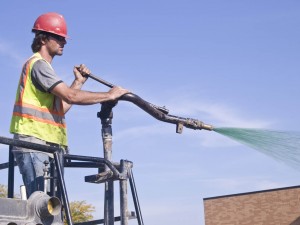 In August, John Fischer, the owner of Anderson-Fischer, Inc. allowed us to visit his job site in Addison, Michigan to take pictures for our new website.
Anderson-Fischer, Inc. won the bid to restore the landscaping at the newly renovated school and hydroseeding was specified to restore the lawn areas of the property.  John chose to use Wood-Lok 300 and Premium Paper 200 hydromulches from Applegate Mulch.  His crew blended the two mulch products together to achieve a 50/50 mix of wood & paper.  The hydromulch was loaded in the tank at the rate of 50 lbs of hydromulch per 100 gallon of water and applied at the rate of 2000 lbs per acre.
Applications were made from the tower gun of their Finn T120GN Hydroseeder and also from the hose as the situation dictated.  Both of the hydroseeding crewmembers are long time employees of Anderson-Fischer and hydroseeding veterans.  This job had many challenges that included erosion concerns on the slopes, stain concerns on new buildings and new pavement, no irrigation and the hottest, driest summer on record.  The crew applied the slurry like the professionals that they are, with precision and accuracy, covering the soil with an even coating of hydromulch.
Three weeks after the hydroseeding was completed we visited the job site again.  Applegate's Wood-Lok 300 and Premium Paper 200 mulches held the ground and the grass was growing well, just as we expected it would be.
Located in Mason, Michigan, Anderson-Fischer, Inc. has long been one of the foremost landscaping firms and D.O.T. contractors in the state of Michigan.  Hydroseeding has always been and remains an important part of their landscaping business.