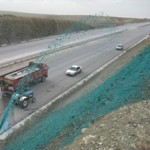 Webberville, MI – To help meet the rigorous requirements of the New York Department of Transportation revegetation projects, Applegate Mulch gained approval for WOOD-LOK Bonded Fiber Matrix (BFM). Applegate WOOD-LOK BFM is a premium hydraulically applied erosion control product, which through the years has met diverse American and International erosion control requirements. Now, WOOD-LOK BFM is an accepted soil stabilizer for use on New York State Department of Transportation projects.
Applegate WOOD-LOK consists of long strand virgin wood fibers that are sized for rapid mixing and maximum tank loading capacity. Contractors using WOOD-LOK BFM receive not only these advantages of WOOD-LOK but also, added soil stabilization and protection from a high strength, hydrocolloid binder, which helps to form a porous, erosion resistant mat that maintains its properties despite repeated re-wetting.
Starting in 1978 with one small factory in Okemos, Michigan, Applegate today has the largest hydromulch manufacturing capacity in the world, drawing from seven manufacturing facilities across the United States. From these seven facilities Applegate can ship products cost effectively around the world while ensuring backup production and flexible delivery options for Applegate's complete line of hydroseeding mulches and ancillary products.
For additional details please Contact Applegate or call 800-627-7536 Ext. 303.